1 When did you start writing?
I started writing when I was thirteen or fourteen, or maybe somewhere in between. I'm not sure why I began writing. There were very few books in the house. I felt very isolated and lonely as a child, and the adults who surrounded me were not happy, so maybe I began writing as a way of trying to express feelings I could not easily share with them.

2 Where do you get ideas from?
Ideas are all over the place. Sometimes I think if ideas were visible the world would be so cluttered we wouldn't be able to see anything else. Sometimes ideas are sparked off by a rhyme, but I honestly don't know where they come from. All I know is that as soon as you get one, another comes along, then another, then another... And then they go away for a while, and I think that I'll never be able to write another poem ever again.

3 Did you always want to be a writer or did you have other ambitions?
I've always wanted to be a writer, but I love travel and in the last few years I've crossed deserts, been in jungles and up the Andes. I've also followed Darwin's voyage to the Galapagos Islands. I suppose being an explorer would have been fantastic a century ago.

4 Do you enjoy writing?
Yes, but sometimes I find it hard to sit down and actually begin new work. For me writing comes in bursts of activity with long stretches of nothing in between. When I'm not writing I forget how much I
like it when I am.

5 Do you have any hobbies?
I like gardening and swimming in the sea. I love snorkelling and want to try aqua-diving soon. I've been paragliding and that was fun. But mostly it is boats I like. Boats and rivers. There is nothing quite like floating down rivers in boats. I'm a bit like Mole And Ratty from Wind in the Willows.

6 What was your favourite childhood book?
There was not one special book, but... Once upon a time there was an old lady called Freida. She lived in my street when I was a child. Her living room was full of dust and moth-ball-scented books, and I used to go into her house to visit her. She gave me a book of fairy tales and the story of the Little Mermaid (who leaves the ocean to meet the man she loves) was one of the stories in the book. When she leaves the ocean she feels as if she is walking on broken glass. The beauty and cruelty of the story impressed me. It was a tiny book, and I think maybe that book was important because it was my first encounter with the world of wonder and magic.

7 Of all the poems you have written, which is your favourite?
If I told you what my favourite poem is then all the others would get very jealous

8 What is your favourite food?
Thai food mostly, and the kind of food they serve in Southern India, which is my favourite country. Also cornbeef hash.

9 When do you write?
I think my best time is between 4pm and 8pm, when I've put things off too long and before I go out for the evening. But if I'm on holiday in a quiet place I get up very early, go for a walk and a swim, then try to write. I always wish I would try harder, because basically I'm very lazy.

10 What advice would you give to children who want to become writers or poets?
To very young children I would not give advice, only encouragement. To older children my advice would be to try to improve what you have written once you've written it.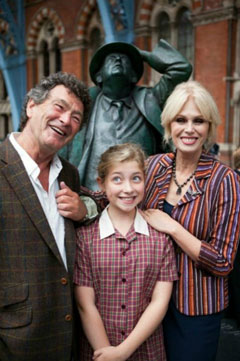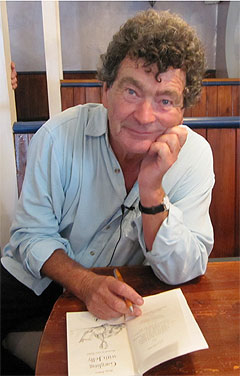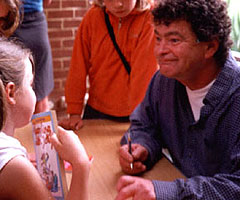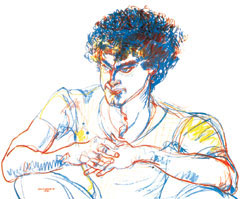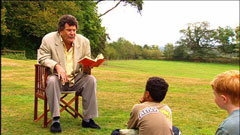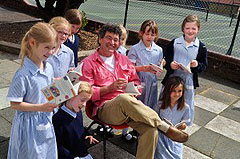 Photo Credits:
Paddington Arts; Totnes Libary; Maynard School, Devon; BBC: